Hyderabad Metro: The Ameerpet to LB Nagar stretch is 16-km long and marks the completion of the phase-I corridor.
Hyderabad Metro Rail is its services on Ameerpet to LB Nagar Metro route today. The Commissioner for Metro Rail Safety has issued the safety certificate for passenger train operations on this stretch after testing and commissioning. Here are some key facts about the new route:
* The Ameerpet to LB Nagar stretch is 16-km long and marks the completion of the phase-I corridor. The Corridor-I now connects Miyapur to Ameerpet to LB Nagar.
* It covers a total distance of 29 km including the new 16-km stretch. The Governor of Andhra Pradesh and Telangana E S L Narasimhan has flagged off the Metro train at Ameerpet station.
* PM Modi had inaugurated the 30-km Miyapur-Ameerpet-Nagole stretch in November 2017.
Check out Hyderabad Metro Route Map
* With its operation on Ameerpet to LB Nagar route, the Hyderabad Metro now has a total operational stretch of 46 km, the second largest in the country after Delhi Metro.
* There are 24 stations in the operational 30 km line.
* With the opening of 10 km Ameerpet-Hi-Tec city line from December 2018, the total operational length will be of 56 km.
* The Hyderabad Metro Rail will also be starting its services between Jubilee Bus Station and MGBS (10 km) around mid-2019.
* As per reports, the MGBS stations will be one of the biggest Metro stations in Asia.
Check Hyderabad Metro Fare Chart (As per November, 2017 data)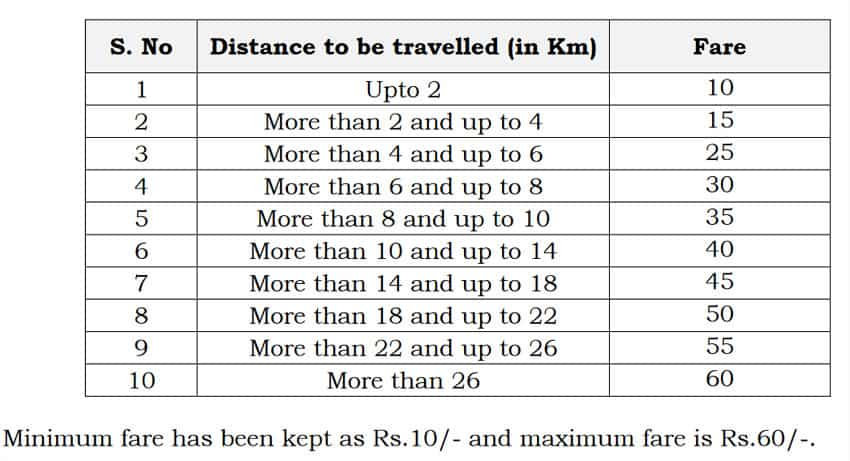 * Hyderabad Metro has a footfall of around 85,000 passengers per day (on its 30 km stretch of Miyapur-Nagole).
* The Hyderabad Metro is also developing a heritage precinct along with continuous and wide footpaths for seamless pedestrian movement on a five km stretch between Police Control Room and Rangamahal Junction, covering five stations of Assembly, Nampally, Gandhi Bhavan, OMC and MGBS in Corridor-I, reported PTI. The Hyderabad Metro provides train services at every seven minutes during peak-hours and every eight minutes during non-peak hours. The first train starts at 6am and the last train leaves at 10pm.